02 June 2010
**Update: Since you all asked about my necklaces... the metal one is a Lisa Leonard
oval monogram necklace
and the long, colorful one is from
Light Gives Heat
(a humanitarian organization that is working to empower Africans to sustain themselves economically and creatively)
and was a gift from my sweet friend
Mis
.
It's a Suubi Necklace - paper beads hand-rolled by Ugandan women.
They make all kinds of beautiful necklace styles (I love the shamrock!), but the Classic (the one I'm wearing) is great because of it's versatility (you can wear it long, doubled, tripled, knotted, around your wrist as a bracelet, etc.). I'm glad you all like it! You can buy one
here
. :)
Oh yeah, and to answer Julie's question, Hazel's bow is actually an alligator clip with a little no-slip grip in it. I (optimistically) bought a handful of bows for her
here
before she was born and specially requested the optional extra grip. (I think it's just made from cabinet liners).
And yes, I've heard KY Jelly works well to stick little ribbon bows to beautiful bald baby heads. Elmer's Glue will do the trick too - it's water soluble!
_____________________________________________
I'm working on a blog switch-a-roo. Well, maybe more like a summer face-lift, but it's taking my focus right now.
That and my sweet blonde babes.
Can you get enough of this sweet little lady (who's only been with us for 11 short weeks,
but already feels like she's been a part of us for a lifetime!)??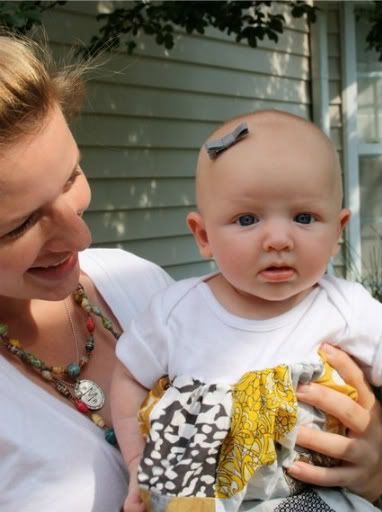 And how about this dress?
Wanna know how to make it??
Just cut a rectangle of lightweight fabric (you decide the length, and have the width be enough to go around your babe's body 1 1/2-2 times).
Stitch the short ends together.
Hem the bottom and run a gathering stitch around the top.
Stitch the gathered end upside down around the chest of a onesie you like, flip it down and topstitch.
Voila! You get the benefits of a onesie (doesn't ride up) with the style of a hip dress.
Don't forget to accessorize with a pair of leggings and a hair bow that is holding on for dear life!
(Oh, and I used a long-sleeved onesie, snipped and rolled the sleeves for a touch of interest.)
Now, off to water my flowers...