12 June 2010
So, Hazel has this hat.
It turns out to be a pretty handy accessory since it's a lot easier to clip bows to her pilot hat than to her peach fuzzy head.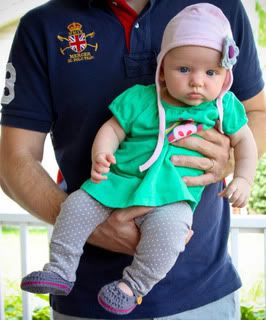 I'd had my eye on one of these Hanna Anderson hats for a while when I was still in waiting for Miss Hazel. Then, I couldn't believe my good fortune when I came across this pink one for only $0.50 at a garage sale. I love to clip things to it.
Even if my husband thinks I'm a bit overboard.
I have a girl and I'm loving every minute of it (even if it means clipping ridiculously large flowers to her tiny head)!
Also, have I mentioned how much I love to shop at garage sales?

Labels: Garage Sales, Hazel