10 November 2010
So, my friend*

Melissa

contacted me a couple of months ago to ask if I'd be interested in reviewing some of her organic baby products.


*We were actually strangers at the time, but she's such a
lovely
gal (and she took me out to my

favorite ice cream place

!) that we're definitely friends now :) She lives right here in Franklin and she's due to have a baby girl in a few months! Yay for babies! Yay for new friends!
I'm generally up for trying new things, especially when it involves good smells and soft baby skin, so I agreed to test drive a few things on my bear cubs.
After meeting with her to get the goods I arrived home with the happy sound of a bag full of clanking jars of goodness and I skipped upstairs, started the bath water and summoned my dirty children to my side. (Hm, is it actually possible to "skip" up stairs? If it's possible, that's what I did. I was really excited to try it all out!)
Can we take a moment to talk about how funny it is that a baby can be fussy all morning, and then you set her in three inches of water and she's suddenly Little Miss Joyful Bottom?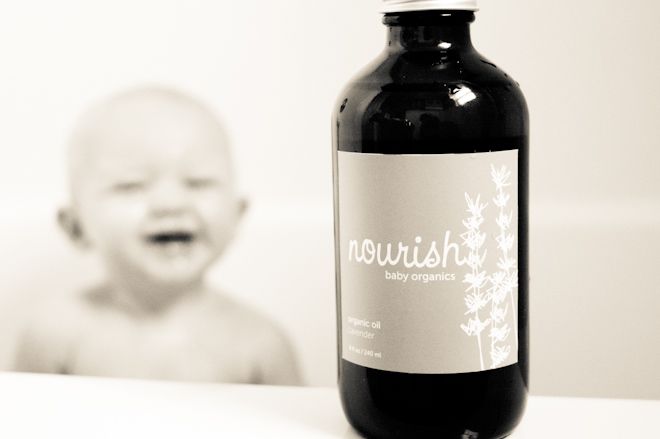 Melissa actually started this line herself after being an
Aesthetician for the last decade. Her son (who is newly 2!) suffered from eczema as a babe and that prompted her to make a line of washes, oils and balms that would soothe his skin and be safe to use. Before she new it,

Nourish Baby Organics

was born! She started selling her new products to a few friends and has since expanded to on online store, several local shops and even Whole Foods. (Yay for Mamas being successful while doing what they love!)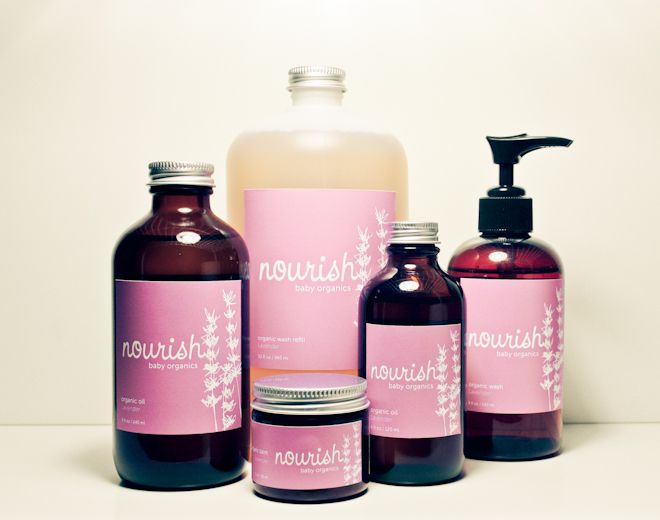 I tried the lavender wash and oil on my babies first and I can't decide if I love what they do or how they smell better. I put a capful of the oil in the running bath water and my kiddos came out of the bath so soft that I did't even need to put lotion on them. (See how the water beads up on her fat little wrist?)
The lavender oil is also awesome for soothing pregnant bellies that are itchy and growing or even papa bears that are in need of serious moisture (and friendly smells).
There are three main varieties (I want to call them flavors, but I know that's not right...) of washes: lavender, coconut and sweet orange. I want them all in my life. I like a different one every day. Today, my favorite is the sweet orange. I'm such a sucker for citrus.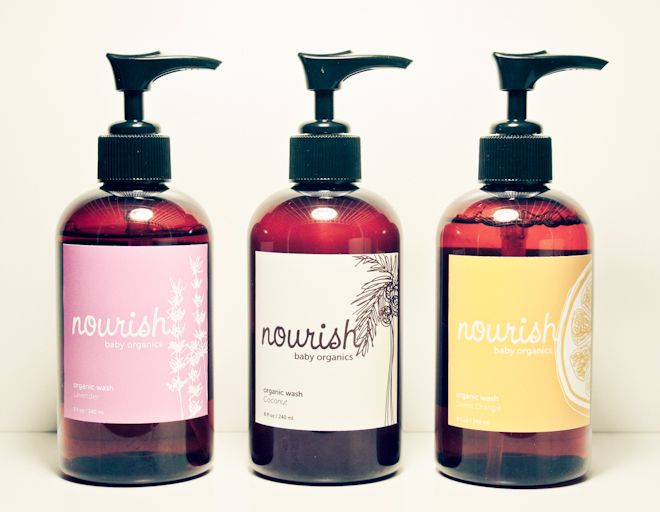 So, do you want to try some too? (will you promise to do a happy skip up the stairs?) :)
Melissa wants to send one of you an 8oz. (that's the big size!) bottle of the lavender oil as a special treat. And she is also offering
20% off
in her
shop
for one week (today through November 18th) using the code
"raechel20"
. (Make sure you spell my name correctly!)
1. Visit Melissa's

shop

and look around at all the pretty, organic, good-smelling things. (Well, you'll have to imagine what they smell like. The coconut wash smells like the beach!)
2. Leave a comment (one per person, please!) telling me what you like. (Also feel free, as always, to comment on the darling bathing beauty who's happiest place in the house is evidently her bathtub.)
3. Don't forget to leave your email address!
4. Comments close in two days (November 13th - my bloggy friend

Keight's

due date!) and a winner will be announced shortly thereafter.
5. I'll leave you with a picture of how happy the cabinet in the kids' bathroom looks right now all filled with Nourish Baby products. Makes me feel clean and smell good just looking at it!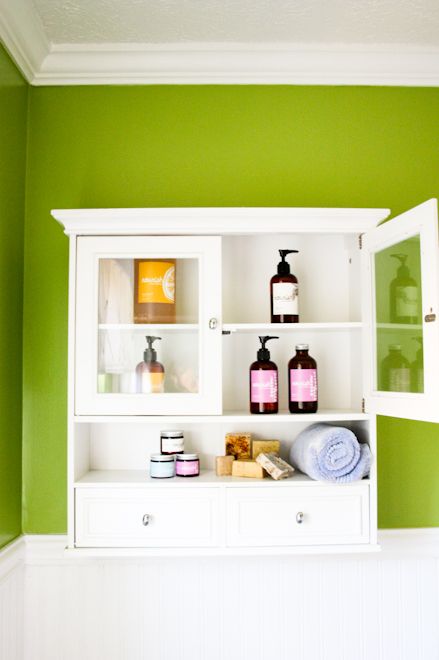 Labels: Hazel, Things that tickle my fancy