08 November 2010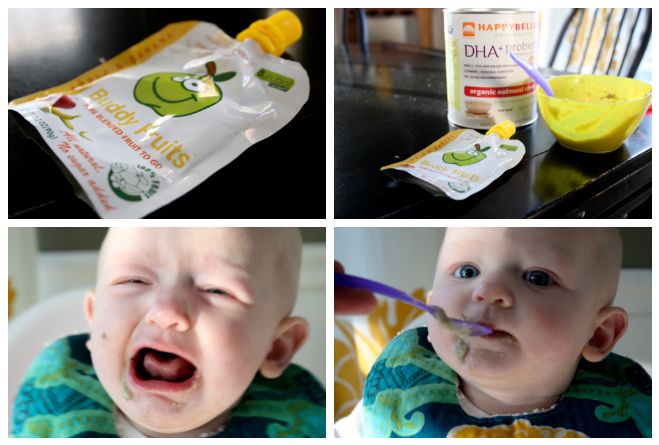 We rarely feed Hazel packaged baby food, but I saw these organic baby food pouches the other day and was so curious I had to give it a whirl. Now, I know you're probably supposed to squirt the food out of the pouch and into a bowl, then spoon-feed the newly dispensed contents to the baby little by little, just like the other kinds of baby food.
But, Hazel was so impatient for dinner the other night that I hastily unscrewed the top and offered the "mouthpiece" to her. I have never seen anything like it. Before I knew what was happening she sealed her little lips around the opening and like a little baby vacuum and I felt the pouch starting to deflate in my hand. No kidding, 3.2 ounces down in 10 seconds flat.
Fast, nutritious AND tidy!
I have to ask - is it okay to let her suck the food out? Like, is she going to inhale the food on accident or will she get a tummy ache from eating too fast? It almost feels like it's too good to be true. It it weren't for the oatmeal I also fed her that evening, it would have been the tidiest dining experience I've ever had with a 7-month-old.
I've seen toddler versions of these that are actually intended to be consumed this way (I offered one to Oliver yesterday and he nearly gagged at the texture).
Have y'all ever tried them? We normally feed Hazel whatever foods we're also eating, but it's nice to have something tucked in my purse just in case. Unless there's something I'm totally missing (still very willing to be wrong and to learn, this is only my second time around!), these little pouches may be the handiest, tidiest baby feeding solutions since
sliced bread
! Er,
bottles
? Breasts!

Labels: Being a Mom, Hazel