08 September 2010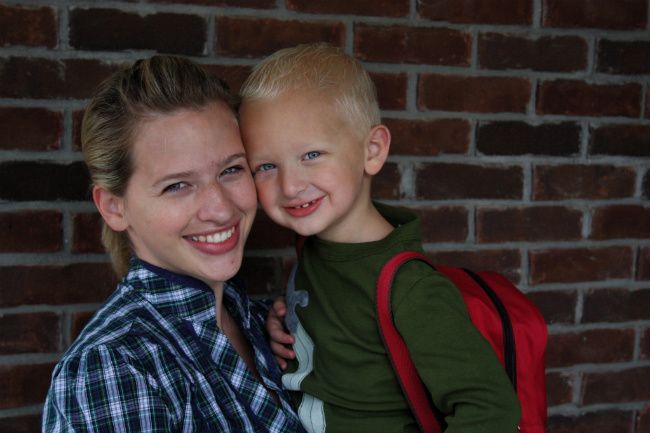 Today is Oliver's first day of preschool.
This spring Ryan and I spent several weeks discussing our goals for our son for schooling, our practical abilities and resources, our schedules and ideals. We sought council from people we respect and admire. We prayed for the Lord to lead us. And we examined our budget, looking for a way to make room for a tuition payment.
All of these things and more have led us to the decision to enroll Oliver in a remarkable preschool program this school year. We are so thrilled!
As I'm sure many of you can imagine (and relate!), I was a bit of a pacing wreck last night. I'm not sure how many times I brought Oliver's lunch box to Ryan, asking him to look over it's contents and critique my offerings.
I've never packed a lunch box before and I wanted it to be just right. What if I pack too much? Or worse, too little! What if he can't open his string cheese on his own? What if he needs help with his juice box? Will he eat his dessert first or will he know to wait until after he finishes with his sandwich, fruits and veggies?
Suddenly there were so many things to teach him in so little time! I've had him every day for the past (nearly) four years, and we've never talked about how to eat lunch with friends without Mommy around.
What if he forgets to close the door when he needs to go to the bathroom!?
What if he takes his sandwich all apart or does that silly-yet-only-endearing-to-the-one-who-bore-him thing where he eats his bread from the center, out?
I'm not ready for this!!!!!
Nonetheless, Ryan and I woke him up in his bed this morning with a smile and excitement in our voices. We got him dressed, fed him breakfast, and I ran him through a very quick tutorial on how to eat lunch at school. (yes, I really was that worried.)
We took a few photos on the front porch, loaded up in the van and headed out.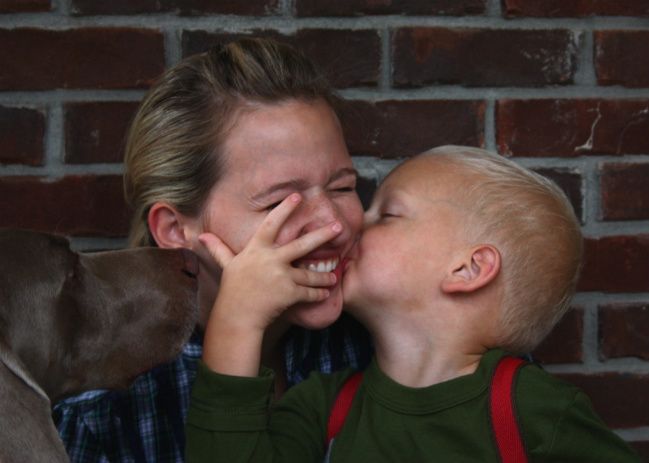 I snapped a few photos in the car just in case. And then a few for good measure as we approached the building.
Once we got into the school, Oliver was a champ. He wasn't nervous at all. But (and I thank him for this), he wasn't overly eager for us to leave either.
We walked him into his classroom, he found his name and put his backpack and lunch box where it belonged. He clipped his name tag on his shirt and sat down next to his friend Joseph to color a worksheet before devotions.
Somewhere in between the backpack and the worksheet he just completely forgot we were still there.
As it should be, I know. :)
We snapped a few photos of him in his classroom, followed his class down to El Pueblo for devotions, snapped a few more photos, and watched him adoringly as he learned the sign language for his catechism songs and how to "give me five".
Snapped just a few more photos and then left for Starbucks for our own boo-hoo-brew, as we like to call it.
Of course, as we drove away, I remembered out loud, "I forgot to remind him to close the door when he uses the bathroom!!" Ryan assured me that if he didn't, then someone else would probably close it for him. Oh Oliver, please remember to pull your pants back up before you come out!!
The truth is, as sentimental as we are about sending our firstborn out of the nest for the first time, we are also so tremendously grateful that he gets to do this.
As we watched him this morning with his new classmates and listened to his teachers speaking God's word to him, we had no doubt that this was the right place for him this year.
And as we watched how naturally he transitioned from home to school, we had no doubt that this was the right timing for him as well. (God is good to give us peace like that, isn't He?)
At his preschool, the first thing they do every morning is gather all the classes in El Pueblo for devotions. They are gracious to let the eager, camera-toting Mamas stand in the back to watch and worship along with them. This morning the school sang "This is the Day that the Lord Has Made" and I was reassured that today is, indeed, from the Lord.
We have been loving our son and praying for him for the past four years. We have taught him to walk, talk, eat and even use the bathroom. We have taught him to love others and to obey God. We have helped him hide God's word in his heart.
We have asked God for wisdom in training him up in "wisdom and stature and in favor with God and man" and by His good grace, Oliver is the young man he is today. Still flawed, yes. (aren't we all?) But well adjusted, and ready for what lies ahead for him this year in preschool.
We are so grateful. So blessed. And, so eager to go pick him up and bring him home!!!


"This is the day the LORD has made;
let us rejoice and be glad in it.
O LORD, save us; O LORD, grant us success.
Blessed is he who comes in the name of the LORD.
From the house of the LORD we bless you.
The LORD is God, and he has made his light shine upon us.
With boughs in hand, join in the festal procession
up to the horns of the altar.
You are my God, and I will give you thanks;
you are my God, and I will exalt you.
Give thanks to the LORD, for he is good;
his love endures forever."
____________________________________________________
We just got back from picking our little guy up from school.
We arrived a little early with eager plans to take him out for ice cream and hear all about what a fantastic day he had.
When we got to his classroom, I peeked in the window imagining what his teacher would have to report about our smart, funny, obedient and friendly wonder of a son. I searched over the group of kids seated on the floor for a little boy in a green sword shirt, but there was none to be found.
And then I saw him. And my stomach sank.
He was in his "fresh change of clothes".
I turned to Ryan who was standing among the other eager parents with my face pale and my eyes big and mouthed to him, "He's in his back-up clothes!" I was imagining all the horrible things that could have happened.
The worst-case scenario, I thought, would be that he waited too long to ask to use the restroom. How could this be though? He doesn't
have
accidents!
The best case scenario I could conjure in my racing mind was that maybe he forgot and accidentally squeezed his juice box too hard, thus soaking his clothes.
And then the door opened. And Oliver walked out, handsome and happy to see us saying, "I had a hiccup in my lunch."
Oh no. He threw up. On the first day of school.
I don't know if he's EVER thrown up before but maybe once or twice. (probably why the only word he could think to use was "hiccup")
Turns out, he and one other child just spontaneously "lost it" in the middle of lunch time. No real explanation. It wasn't even one of them reacting to the other. It just
happened

all at once
.
I was initially a good combination of horrified and hugely sympathetic to my little guy who had been sick on his first day of school without his Mommy nearby to comfort him.
Now that we're home (and the shock has had some time to wear off) Oliver has been able to share all the fun things he got to do at school and we're all feeling much better.
This is the day the Lord has made, indeed! Surprise "hiccups" and all, He was the only one who saw it coming! Let us rejoice and be glad in it!! :)
Do y'all have any funny "First Day of School" stories? Do tell!!