05 February 2011
I don't know why I'm always so terrified to go with my gut on things, but without fail, I'm usually a nervous wreck on my way home from the paint store.
I mentioned earlier this week when I gave you a
peek at my sewing room
that it was in desperate need of a paint color reevaluation. Well, I'm not really one to let a lot of moss grow on an idea (or however that saying goes, I'm terrible at idioms), so by Thursday I was in full-out, this-is-going-to-have-to-happen-now mode.
I knew that I wanted to tone things down a lot. (remember the
nearly gold color
it was before because it was previously a guest room?) I thought I'd like to go with a light grey or even an ever-so-slightly tinted white. Something that would really lighten the mood in there. But, sucker for color that I am, I also wanted something pretty and exciting in there too.
What's more exciting than pink? Straight-up, creamy, yet in-your-face pink. With a hint of orangey-red added for tonal purposes, of course.
I chose a color at home from my handy Martha Stewart palette folder thingy, but I knew I'd want to take a look at all of my pink options once I made it to the hardware store. Man, nothing like choosing a color that you've never actually seen in your own room's lighting to make you want to pee your pants a little (almost wrote "pee your paints" here on accident, that would have been funnier).
I painted yesterday afternoon with my trusty 4-year-old encourager. He sat at a safe distance, so excited to see bright pink paint streaking a stark white wall (you'd better believe I primed the heck out of that mustard color!). He loves to watch me paint. And sometimes, when I'm feeling uber relaxed and fun, I let him roll a couple of streaks himself. Especially when I'm planning to tear up the carpet soon anyway.
Anyway, I knocked out the brunt of the work yesterday with just a few follow-up strokes needed today. Y'all, I am in love. I feel so happy and chipper and inspired to make great things in this room!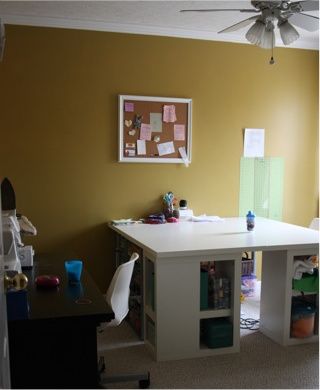 I mean, obviously everything is currently shoved into the center of the room. But that color! Mmm, that color. I love it. Wouldn't it be fun to switch out the ceiling fan for a pretty, girly chandelier or something? I have some ideas for a window treatment and I have a new ironing board cover on the way from this
cute little Etsy shop
(mine was seriously 8-years-and-couting disgusting).
Anyway, just wanted to share my pretty color joy!
And in case you're curious, the paint colors are:
Watermelon Pink, Behr, Home Depot
Spring Melt MSL 114, Martha Stewart Living, Home Depot