26 May 2011
Okay, y'all are great! Thanks so much for playing my game and making us laugh tonight!
(oh, yes, and for the record: those are Ryan's yucky flip flops she's wearing. And yes, the shoes in the bed were killing me too!)
Ry and I have chosen the winner, but first, can I share some of the runners up? Y'all made it hard!
"the tiniest chemist prepares to take a sample of the corrosive shoe-staining substance that has "found her feet" this morning"
"Is it just me or did that medicine make my feet shrink?!"
- by
Ashley



"Do these shoes make my feet look big?"
- by Laura Darling

"Do my feet make these shoes look big?"
- by

the fam



"What do you mean the pools not open?!?!" - by Kristie

"No, Mom, I'm serious! There really was a Queen of Hearts who kept calling me Alice!" by Jessica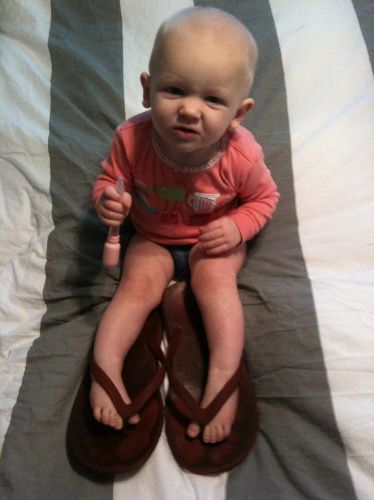 And the winner of the "caption this photo" contest:
"
I know they were only 25 cents Mom, but don't you think its getting a little out of hand? I am thinking they won't fit me for a while." - by
Sarah

Labels: Hazel