16 May 2011
Remember at the end of last month when I
snuck y'all a peek
of a great big box that had been delivered to our driveway and asked for guesses about what might be inside?
Well, none of you guessed correctly (although I think probably a trampoline was the best guess, given the clues I gave) and I figure I've made you wait long enough.
But first, for old time's sake, I'll give you one last clue to guess what was inside:
Does that lovely orange "M" mean anything to anyone?
Y'all,
Madsen Cycles
offered us a lovely deal on one of their gorgeous

baby blue cargo bikes

and we are so excited and grateful! (And it came on a HUGE truck in an ENORMOUS box! Um, giant playhouse anyone?)
(the bike was parked when we took these photos of the kids
- helmets are always worn in action) :)
Have you ever seen one of these before? That big blue bucket on the back actually has great foot space and bench seats (with seat belts!) to seat four. (Man, I've been tempted to hop in for a ride! Maybe someday in the dark of night...)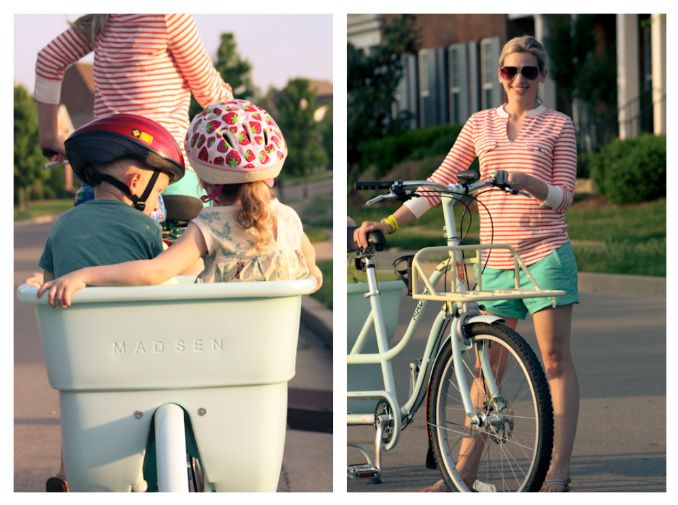 My sister has been pining for one for years (really, since
NieNie got hers
) and with her now four children, the cargo bike was really an ideal fit for saving on gas, getting exercise, and getting around our little town in this lovely weather. The bike goes to her. She's been saving, she's been pining, and she's definitely got the most kid cargo!
But for today, I get to ride around on it and take photos and share this lovely piece of machinery with y'all and pretend it's mine. Mmmm... now I'm the one pining...
Disclosure of Material Connection: We received
the Madsen kg271
mentioned above at a discounted price
in exchange for a mention of the product i
n my blog. Regardless, I only recommend products or services I think are really great and believe my readers will also love.

Labels: Things that tickle my fancy