18 May 2011
We had a happy house-full this weekend! My friend Keight Dukes (from
Putapuredukes
) packed up all her sewing tools and fabrics and family members and blessed us with their company for four whole days!
We spent a weekend together in
March
(she only brought Layla that time) and called it Hardcore Sewing Delight Weekend (shortly thereafter dubbed HSD 1.0) and knocked out all sorts of lovely projects despite my near-deathbed health status.
This time, no one was sick. Praise Jesus! Plus, we added a day. But somehow, I think we may have accomplished less actual clothing construction this time around. There was just too much fun to be had with the kids and husbands, it was hard to pull ourselves away.
We began the weekend diligently and tackled one of the hardest patterns either of us has done to date: the
oliver + s Bubble Dress
.
By the end of day 1 we only had completed bodices to show for our efforts. For shame. (we did learn some cool new techniques with the bodices though!)
On day two we hit a few garage sales in the morning (I bought a chair to reupholster!) and completed the dresses (can't wait to show you what I learned here!), then called it a day and enjoyed each other's company. The pattern was tough, but really worth pushing through because we learned a lot and turned out some of the best quality dresses we've ever made. (The girls totally wore them to church the next day. They were famous in the nursery.)
We also swapped fabric and knocked out coordinating ruffle bottom bloomers to go with the dresses (or without the dresses).
Then we just played and ate and ate and played. There was lots of bacon involved. And bleu cheese. And berries!
But enough about food. Can we talk about the beauty of her children? Melt me. Judah's brown eyes and ample cheeks - I just wanted to snuggle him all weekend, but he didn't have the same desire. Ah well, I took photos instead to document his cute.
Also, I'm pretty sure Layla made her first forward crawling motions on the first day she was here. I like to think it was the new carpet. I'm probably wrong.
Oliver was in love with Layla and Judah made Hazel cry a few times.
But mostly, Oliver just tried to hijack the Dukes' iPad all weekend (they had new games!). On Sunday afternoon I actually found him playing with ours and theirs simultaneously. We may have a problem on our hands. (Seriously though, I'd love to hear: Are your kids as technology obsessed as my guy? If so, how do you handle it??)
On Sunday while the Dukes family took a Sabbath nap, I holed away in the sewing room and knocked out an
Everyday Dress
by
ManiMinia
on Etsy (I made mine tunic-length).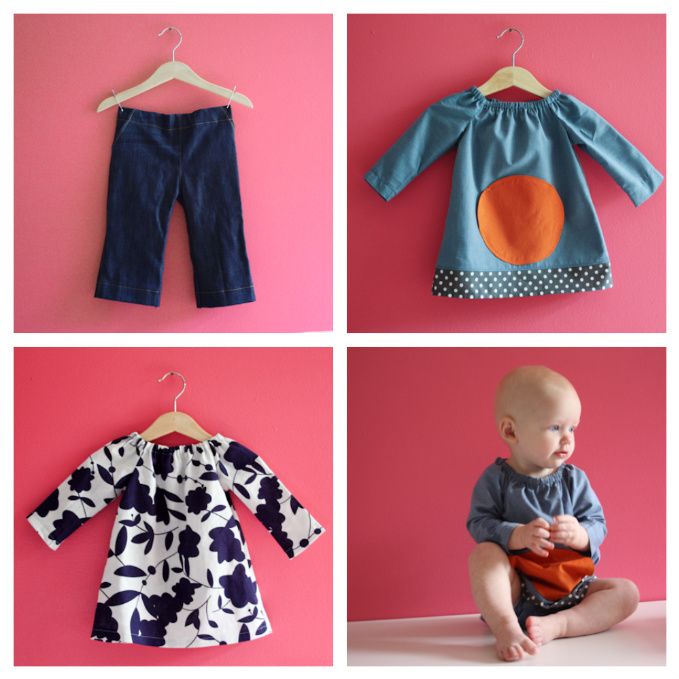 Seriously, whatever time we spent making the O+S dresses, I made up for with the Everyday Dress. 45 minutes and done! I made another one the next day. In fact, I may make another one each day this week. So fast, so easy, so perfectly cute.
Apart from all the sewing and playing and eating, some of the best stuff happened after the kids went to bed and the sewing machines were tucked under their respective dust covers for the evening. There was a fair share of laughter, yes. But there were also very encouraging conversations in which we were all pointed to Christ; where we were able to testify to the truth of the Gospel and hope together in the promises we have been given. So cool to be able to sit down with brothers and sisters in Christ (one that we'd never met before) and share such common ground.
God has been good to give us the Dukes. A friendship out of blogland that has very much done us right.
Thanks for a fantastic weekend, y'all!
ps - tomorrow is giveaway day!!!