17 July 2011
I hadn't sewn since we got back from Michigan. I was busy with other things and my sewing room sat alone and sad and uninhabited for over a week and a half and something needed to be done!
But, I did't know what to make. I needed inspiration.
And since I had just posted family photos of Hazel in that cute sun dress from babyGap, I thought it might be fun to tackle making that dress myself.
After all, why mess with a good thing?
I cut the body pieces from ManiMina's
Everyday Dress pattern
, finished the arm holes (instead of attaching the pattern's sleeves) and threaded a little circle of coordinating homemade bias tape for the strap into the neckline. I also added a line of the strap fabric to the bottom to give it interest.
And just like that - Hazel had a new summer dress!
I even had time leftover to join Oliver for a 2-hour nap in my bed! Not bad at all.
I accidentally cut things a little short (and tried to salvage as much length as I could by just doing a

serged rolled hem

instead of turning it under twice). I tried the dress with wide-leg jeans at first (maybe should have tried skinny jeans?) but I like short dresses on little girls and it's just so hot outside, so I eventually decided to go for it with a pair of bloomers and it was super cute!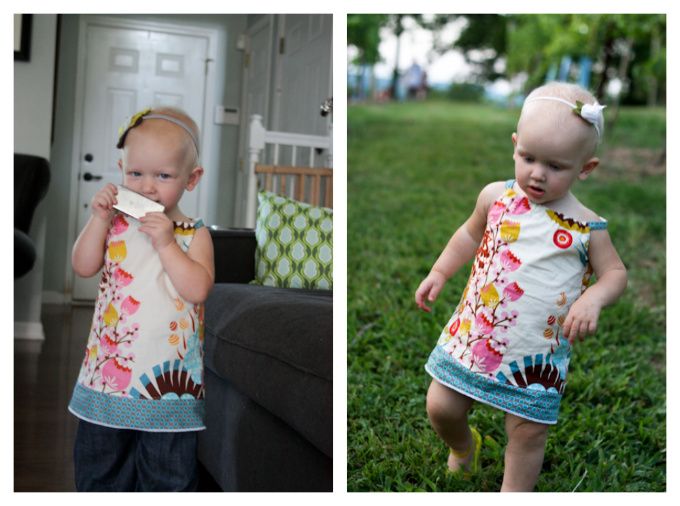 What have y'all been making lately?