29 March 2011
Y'all want a great summer sandwich recipe? Ryan and I have been making this bad boy for years (I originally found the recipe in one of my
Barefoot Contessa
cookbooks - because really, you can't go wrong with the Contessa!), and it's always a hit to serve for company (just ask

Keight

!)
And so, I give you, a Caesar salad on a bun (think of the bread as the croutons!):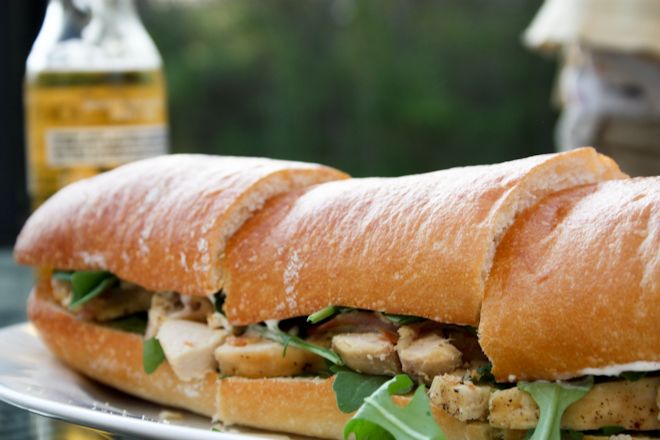 2 chicken breasts (bone-in or boneless)
Freshly ground black pepper
4 ounces thinly sliced pancetta
1 large ciabatta loaf (you can pick up a fresh loaf at Panera for $2.50)
2 ounces baby arugula, washed and spun dry
12 sun-dried tomatoes, in oil (I sometimes skip these, but Ryan likes them!)
2 to 3 ounces Parmesan, shaved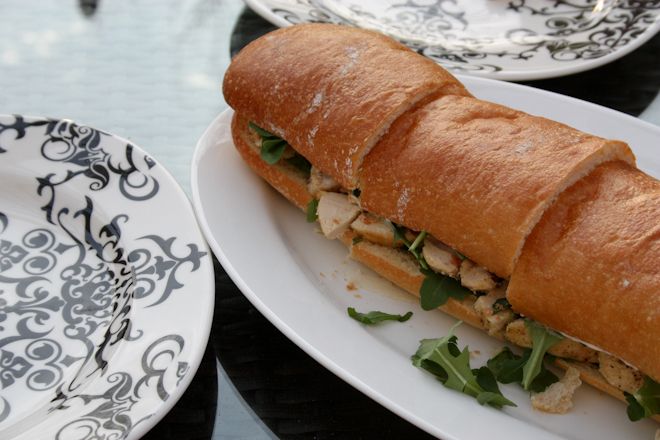 Preheat the oven to 350 degrees F.
Place the chicken breasts in a glass baking dish skin side up. Rub the chicken with olive oil and sprinkle with salt and pepper. Roast for 35 to 40 minutes, until cooked through. Cool slightly, discard the skin and bones, and slice the meat thickly. Set aside.
Meanwhile, place the pancetta on a sheet pan in a single layer. Roast for 10 to 15 minutes, until crisp. Set aside to drain on paper towels.
Slice the ciabatta in half horizontally and separate the top from the bottom. Drizzle a bit of olive oil on both cut sides and toast the bread in the oven, cut sides up, for 5 to 7 minutes; cool slightly. Spread the cut sides of each piece with the Caesar dressing. Place half the arugula on the bottom piece of bread and then layer in order: the sun-dried tomatoes, shaved Parmesan, crispy pancetta, and sliced chicken. Sprinkle with salt and pepper and finish with another layer of arugula. Place the top slice of ciabatta on top and cut in quarters crosswise. Serve at room temperature with lemonade or sweet tea and some good

baked rosemary potato fries

.
My friend
Jen
and her family are planning a visit this weekend and I'm thinking of busting out my favorite sammie for her and her crew. Yum!

Labels: Recipes