31 October 2010
... and Arial and a couple of bats.
We just returned from a lovely (and I mean
lovely
- the weather was just
perfect
) evening of trick-or-treating.
One thing I love about this evening every year (and because we live on the far East side of our time zone) is that there's only really about a half an hour or so of good lighting before the sun gets too low to catch good photographs without a flash. (I'm allergic to flashes. Or, I at least avoid them like the plague if at all possible.) This is great because it means that after snapping some fun shots of the Halloween fun early in the evening, I have no choice but to tuck my camera away and be completely present. I love being totally present with my family!
This year we had big plans to make
Charlie & Lola
costumes for Oliver and Hazel, complete with butterfly barrettes and a baseball tee. But, way turned into way - I came across these great costumes at yard sales last month for $1 and $.50 and I also got just a little lazy. Last year I made a fantastic
homemade costume
for Oliver. This year he was thrilled to be a store-bought (yard sale) spider. I'm at peace.
And by the look of this little peacock, I'm thinking she was also at peace.
Her plume spread was so big we couldn't see to walk around with her, so she actually spent most of the time in her stroller. Isn't she so nice and snuggly?
Bea was a post-mer-transformation-Ariel. This girl loves to dress up, so Halloween was just her speed this year!
Really, this was the first year they both finally got the hang of the whole trick-or-treat process. Last year we spent so much time and effort helping them figure out what was going on and what they were supposed to do. This year, they were old pros.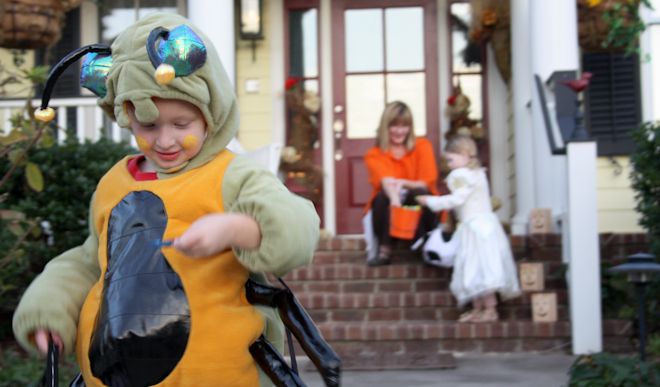 We are always quite a sight on walks with our double and quad strollers. Also, Hazel looks funny in the stroller in her costume. Also also, see my cute pregnant sister?! I love her.
Here's our guy showing the full eight-leg costume feature. He greeted just about every house he went to with "I'm a spaeder!"



Oh, and speaking of excellent yard sale purchases - how about these bat costumes for Moses and Augustine? Four dollars. Awesome. (What you can't see is is that they had wings that strapped onto their arms so they could flap with delight. They were great!)


Two girls I love. (Yes, I am chocking this post full of pictures. This blog is our family's journal. It's my prerogative.)
To our great delight, there were several houses in the neighborhood that served more than candy for the kids. Once house served chili and beef stew, another one was serving big bowls of jambalaya, and there were several hot cider and hot chocolate stops along the way.

Also, my favorite costumes of the evening (yes, I stopped them to ask for a photo) belonged to a couple wearing hula hoops under their clothes, Hawaiian shirts and t-shirts that read: "Which Way To The Buffet?".
Also, there was a Westie dressed up as Alice in Wonderland. Of all the Alice's we saw (and there were many!), she was my pick.

And before the sun sets on my pictures from this evening, I have to show you my little Moses-bat who is learning to wink.

And that's all for tonight. Time to be present with my family.
And maybe a Reese's Peanut Butter Cup.

Labels: Franklin Fun, Hazel, Oliver, Ryan