15 June 2011
Ryan started running for sport in 2009.
Wait - that sounds misleading. Ry's been running all his life. He played ice hockey from ages 8 to 17 (he was REALLY good!) and soccer from age 4 into college. He ran then too obviously, but for now I'm talking about strapping on a pair of shoes and hitting the pavement with no other goals but sweat and mileage.
He actually ran his
first 5K
on a whim in 2009 and then shortly after Hazel was born he ran his first
half marathon
. I was pregnant for the first race and postpartum for the second, so I wasn't able to jump in and join the fun he was having getting fit and tackling big goals.
Well, it's finally my turn.
We've had a hard time figuring out motivation (most of all) and scheduling. We'd love to run together but it's not practical with two children. We can't hire a babysitter every other night and neither of us has any interest in pushing two kids (one of them weighing almost 40 pounds) in a jogging stroller. Personal preference. Not happening.
This Spring we were fed up with the fact that neither of us was running because we didn't want to do gym childcare (or pay for a membership for that matter!) and we didn't want to leave the other alone in the evenings and miss out on the fun family part of the night. But we were serious about running, so we made a plan.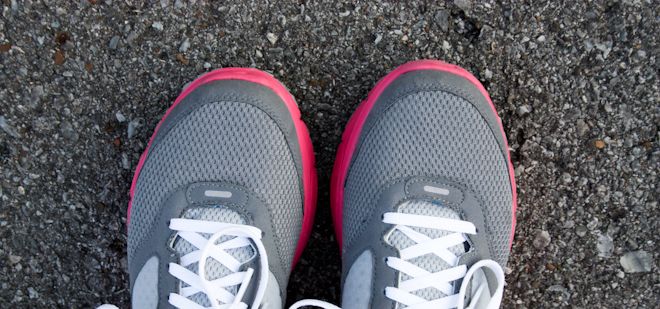 Our two hang-ups were motivation (who hears me?) and finding time. We found great solutions for both that work well for us:
Finding time:
we take turns! Every other night is my running night. It's up to me whether I run or not, but if Ryan ran the night before, then tonight is my night to take off and hit the road while he cleans up supper and plays with the kids. (I don't want to run in the dark, so I run earlier in the evening. He doesn't mind running at night so he usually goes after the kids are in bed since he doesn't get to see them in the daytime like me.) This works really well for us.
Motivation:
I think this is such an individual thing. Some people are motivated by posting photos of themselves on the refrigerator door or even by running with a buddy. I have found four specific things that get me moving (and the first two just involve making it approachable) :
Pacing -

The running shoes I bought this Spring are made by Nike and they have a removable

Nike+ chip

in the sole of the shoe that communicates with my iPod touch while I run. I can monitor my pace, check my distance and keep track of my time. One of my biggest problems with running is that I always start out in a sprint without realizing it. Now that I'm trying to run longer distances I try to keep a 9-10 minute pace while I go so I'm not exhausted by the time I get out of my subdivision.

I'm easy on myself -

I'm still new to running and what I don't want is to hate it. So, I make mini, attainable goals and that really helps me. One of the things Ryan told me when I first laced up my sneakers was, "Rae, take it easy. Run at a good pace for 4 minutes, then walk (also at a good pace) for 1 minute." This one thing is probably the biggest help to me when I run. At any given moment when I'm feeling miserable and check my iPod for some good news, I am - at the very most - either just two minutes into running again or 2 minutes away from getting to walk again! Love those walking parts!

A little competition never hurts -

since Ryan and I both use Nike+ to run, we are able to upload our runs to the Nike website. We always have a challenge going and it's fun to get to talk smack to the person you love to keep them motivated to upload more miles. Our first challenge was "first to fifteen". Believe it or not, I'm proud to say that I won that one! Right now we're just competing to see who can log the most miles in the month of June and I'll confess that he is currently schooling me. Maybe I'll hire some thugs to take a baton to his legs a la

Tonya Harding

so I can catch up. Shortsighted? Yeah, you're probably right.

Take me out and leave me -

the final motivator for me is something I have learned about myself this month. I have my best runs when we go out somewhere with the kids and instead of riding home in the car with the family, I pack my running shoes and run home. I have my worst runs when it's up to me to run away from home knowing that however far I run out I will have to also run that back. It's a bad idea to leave the distance decision up to me when I'm in the moment. I will always come up with a reason to head back early. But, when I'm left to run home, I have no choice! It's great! Ryan thinks my method it a little funny but it totally works for me. I know that I'll just keep running until I get home!
(Me with my cute friend Amanda who visited a couple weeks ago and was brave enough to jog with a probably overly-chipper and excessively-chatty me. Come and run again, Mandy! I promise I won't make you run so hard next time!)
And that is how Raechel started running in 2011.
And THIS is where y'all come in!
I promised last week that there would be a fun announcement and I totally failed. So here it is:
(and obviously the announcement is not that I'm expecting because then this post wouldn't exist!) :)
I know I have got to have some running readers out there! (I know for a fact that some of you are!) Whether you've only run a 5K or you are already running marathons or even if you don't own a pair of good running shoes, this does apply to you!
A lot of bloggers plan fun meet-ups with their readers so that they can get to know each other. I want to do that - but with a couple of specific purposes in mind.
Don't get scared, I'm not asking anyone to run a marathon!
Buuuuut... my big dream is to organize a team of blog readers and friends to run the
1/2 marathon
together.
Now, before you go any further or think any more thoughts, can I ask you to just stop and watch this video so we can all be on the same page?
Okay, I know a bunch of you don't live anywhere near Memphis. I can only ask so much, so if you can't travel that far you're excused. But if you're within a couple hour radius (I think we're about 3.5 hours away ourselves) it would be
so
fun to do this together!
Also, if you will be pregnant or postpartum at the time of the race, I will graciously excuse you too. (I know that geography and populating the Earth alone may cancel out 80% of you, but I'm still going for the remaining 20%!)
(Also, it may help you to know that the furthest distance I've ever run at one time is just a little over 3.5 miles. I'm basically starting from scratch myself!)
The three things that make this Meet-Up great:
1. I get the chance to meet some of y'all face to face! Sweet! It would be fun to get together for a meal or something the day before or after too!
2. We're doing something great for our bodies as we go! And, the 80-year-old ladies that crossed the finish line at last year's Country Music Half are proof that it's never too late to get fit. :) And since we're still almost 6 months from race day, there's
plenty
of time to begin a training program that will have you race-ready by December. (I'll be glad to help you find a good training program!)
3. This is
the best part! I chose the St. Jude Marathon because I love the cause.
Danny Thomas (the founder of the hospital) believed that
"no child should die in the dawn of life."
As many of you know, I have a special place in my heart for sick little
s and the thought of running for a cause like that makes me want to run another mile right now just because I can!
I have a lot of friends who have run that race in years past and they have all said that one of the best parts is near the end when you run through the hospital campus. As many kids as are able come out in their wheelchairs and even hospital beds to cheer you on for your final mile. If that won't make you push through the pain (or maybe cry as you run) I don't know what will!
Okay, so I'm totally stepping out of on faith here. I've taken the first step: I've registered for the race.
Friends, it would be my dream to get at least 10 runners but I'll take as many as will join me! (And heck, if you happen to run with Nike+ I'd love some training/accountability buddies too!)
So, who will do it? Who wants to meet up for a great cause?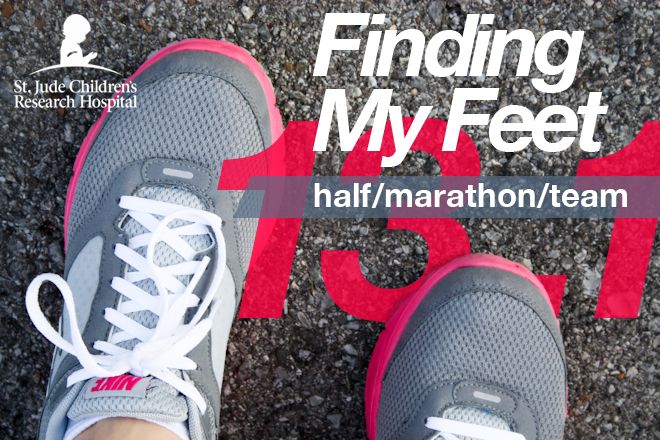 And for those of you who are limited by geography, you can support the
Finding My Feet team
both in spirit and by helping us raise money for the children of St. Jude financially. Please donate!
If you are up for the challenge and want to meet up with me at the starting line, you can
email me
, leave a comment, or go
here
to register and join the Finding My Feet team.

Labels: Running