16 June 2011
Okay, y'all are awesome. I'm so excited by the response I am already getting about this meet-up!
I realize that I wasn't super details-heavy about signing up, donating, etc. in my last post (it was already a mile long, - ha! - I didn't want to be too overwhelming) so I'm writing a follow-up FAQ now.
(Side note: I do my best to answer the questions you ask in the comments by leaving another comment. If you ask a question - especially if you don't have an email address linked to your login - definitely either subscribe to the follow-up comments or check back after while. I'm for the people!) :)
St. Jude/Finding My Feet
Meet-up Race FAQs:
(definitely going to need to find a
better way to word this in the future.)
1. I am NOT a runner. Is it really possible for me to train for and run a half marathon in six months?
Second, I don't want to encourage or ask anyone to do anything that would be unadvisable by a doctor. If you're concerned about your health or readiness to prepare for a race like this, please consult your physician.
Third, it really is possible to go from non-runner to half marathon finisher in 6 months.
Jeff Galloway
is an Olympic athlete who founded the Galloway Marathon Training Program. (Ryan used his plan to train in 2010.) He has a half marathon training program
here
that is 17 weeks long. (I believe I will be using this program to train.) We are currently 24 weeks from race day.
If you are at all interested in running this race with us (and are new to running), I strongly encourage you to read through this plan. Jeff does not recommend that first-time half marathon participants try for a time goal. "Just do the first one to finish, running/walking at a comfortable training pace."
He also notes that to begin the 17-week program "
you should have done a long run/walk within the past 2 weeks of at least 3 miles." And since we still have 7 weeks until we technically begin the training, you have plenty of time to work yourself up to that starting point.
2. I'm in! Where do I sign? How do I join the team?
Great! You can sign up to run the race by following this
link
.
Your screen will look like this: (minus the random pink and black dot in the header - sorry.)
Just click "Register Now" and be on your way. You'll need to create and Active.com account to register, but that's free and just has to be done.
Once you've created your Active.com account, you'll see this screen. Choose the half (unless you're feeling lucky and want to do the marathon or want to run with your kiddos in the Family Race - fun!!) and keep going.
Now you get to give them all your information. Almost there.
When you get to the St. Jude Heroes section, indicate that you would like to fundraise as a hero, and choose "Team Particpant (joining a current Hero team)" from the drop down menu. Then enter "Finding My Feet" as the team name. (Should I come up with a different team name? It's technically not too late. Thoughts? Suggestions?)
Now checkout and you're registered!
Yes, this FAQ just became a tutorial. Am I too enabling?
3. So, there's a team page. Will I get my own fundraising page too? How does that work?
Each participant will get his or her own fundraising page, as well as access to the
team's
fundraising page. When I started this, I set a goal to raise $1000 as a team for the children of St. Jude. I don't know if that was too high or too low - this is my first time!
We will each individually raise support from our friends and family as we train to achieve our own personal fitness goals in this race. St. Jude is super helpful to provide fundraising tips, email forms and the ability to upload your address book to your fundraising page.
Anything you raise personally will also be counted toward the team's overall goal.
4. I'd love to join y'all but I can't. Can I still donate to the team, even if I'm not running?
YES!!! A resounding yes! I would love it if any and all of you would donate what you can to support the great work that St. Jude Research Hospital is doing! I'm counting on some of you to join me in running, some to join us with encouragement, and anyone who feels led to cheer us on by helping us meet our financial goal!
The best way to do this is to follow
this
link and click the donate button on the screen.
A list of our donors will scroll on our team page and you can even leave a personal message with your donation.
The race button on my sidebar will also take you to our team's donation page.
I invite all of you to grab the button and put it on your own sidebars if you like!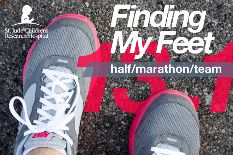 5. I'm definitely interested, but I'm not quite ready to commit. How soon do I need to pull the trigger? How late is too late?
The official answer: "
If a race has not sold out and spots are still available, online registration will remain open through 11:59 p.m. CT on Monday, November 28."
But if this is your first half marathon, I'd say the 17-weeks-out point (August 6th) is going to be your do-or-die moment in terms of commitment.
I plan to keep in communication with the team via some kind of newsletter as we go, so to be a part of that you'll need to get your name on the roster. :)
6. What's this newsletter business? How much will the team actually be training together?
I think once the team forms I'll have a better idea of how to lead it. (Laughing at myself right now for biting off the enormous responsibility of leading a team to run a half marathon when I've never actually run an organized race before. Talk about the blind leading the blind!) I'm actually hoping to get a few seasoned team members to join us and hopefully they will be able to help us as we go.
If everyone decides to take the Nike+ route (you can carry the chip in a special-made pouch on your shoelaces if you prefer not to run with Nike shoes), then that will be the obvious resource for training and communicating as a team. If not, we'll go a different route. (see what I did there? funny!)
7. We're not able to join the team but we'd like to keep up with your training. Are you planning to give occasional training/team updates on your blog?
Yes, of course! I think it will be fun!
(But don't worry, my blog has not become a "running blog" by any stretch, nor do I want you feel left out if you can't join us. If this goes well, it would definitely be fun to do other meet-ups!)
Okay, these are all of the questions I can remember for now. Does this cover your questions? Are there others? Are you so glad it's almost Friday?
Have a great night, friends!

Labels: Running