01 August 2011
So, remember back in June when I extended the invitation to y'all to join me on a big run? I told y'all I had caught the running bug and was dreaming of a bloggy meet-up in the form of a half marathon run in Memphis for the children of St. Jude Hospital.
Well.
I got a great response from y'all. Lots of interest in running dependent on logistics. Tons of support and encouragement from those of you who would love to join us but are limited by distance or circumstance (but sweetly on board for support, just the same!). And a sweet sixteen of you who have pulled the trigger and committed to going all the way to the finish line with me (and to all the other fun weekend activities we'll have planned!)
Guys, we have a team! A real, true, working and training together team.
We've been pre-training during the month of July- all of us getting comfortable with 3-4 mile runs without dying. We're learning technique and how to listen to our bodies and also how not to attempt a run after eating a plate of shrimp and grits.
Next Monday (August 8th), we'll begin our official, 17-week training plan to prepare us to run 13.1 miles on a chilly morning in December.
And we've been having a splendid time holding each other accountable on Nike+ with a "Most Miles in a Month" challenge (which ended tonight with Keight's 90.3 miles taking the gold and Olivia's 87.39 miles taking an impressively close second) and a "Fastest Two Miles" race (I missed first place by 18 seconds to Jesse).
Bottom line: we're getting the hang of this!
Aaaand… we think we like it!
And now that we're all officially registered and running hard and hitting our respective strides, it's time for team Finding My Feet to be introduced to the world!
(And by world, I mean all you lovely and faithful readers.) :)
May I introduce to you (with a photo and bio of each team member),
Team Finding My Feet 2011
St. Jude Memphis Marathon/½ Marathon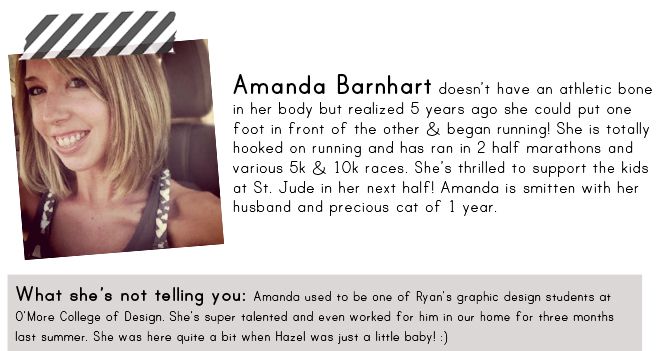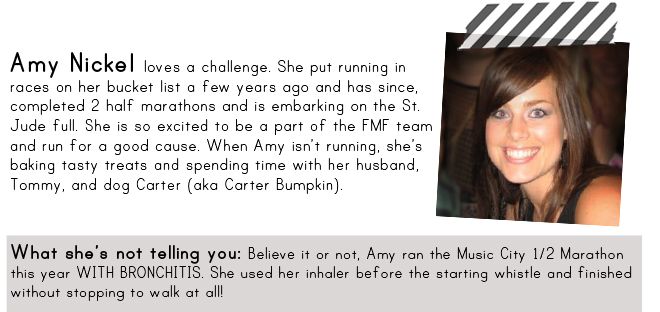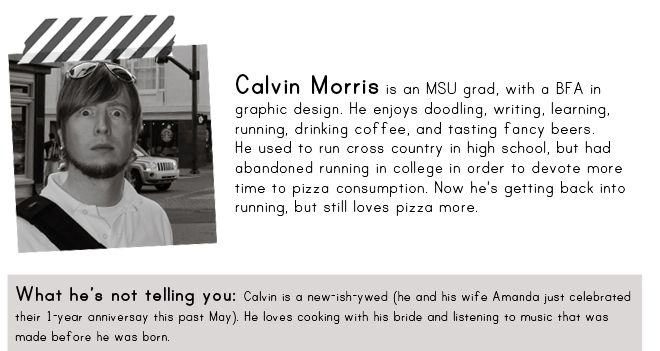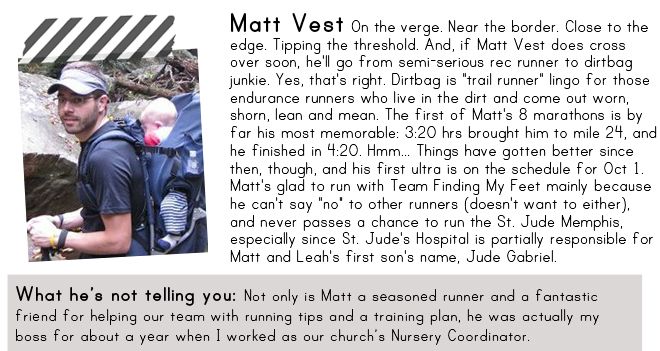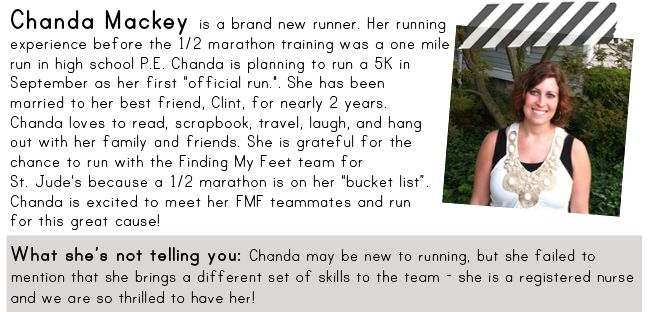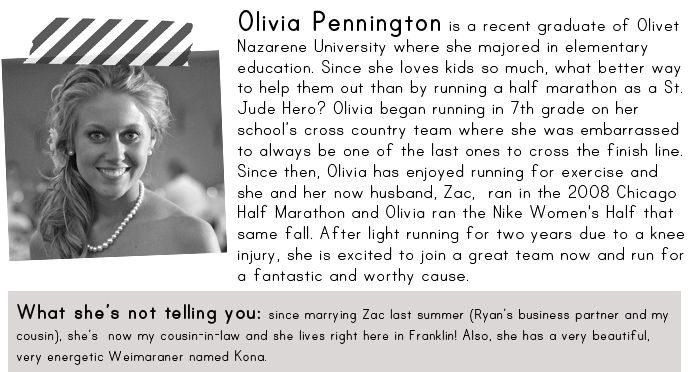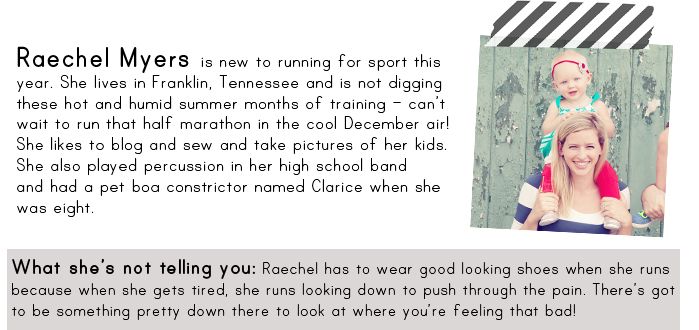 While there are sixteen of us running, we hope that the Finding My Feet/St. Jude team will ultimately be much larger. And, there are two great ways for you to get involved (one now and one in December):
1. We have set a goal to raise $2000 for research for the kids of St. Jude. We've already raised $450 toward that goal just in donations from the sixteen of us, but now we need your help!
If you'd like to donate to St. Jude in support of our team, click here to go to our team site and hit the orange "Donate Now" button. Not only will it help us get closer to our fundraising goal, but your name will scroll on the side of our team page so we will be able to see who you are and feel the support of the community of people who stand behind what we're doing.
2. Each person's bio is clickable to their blog (if they have one) and I also included a link to each of their Twitter sites. Feel free to follow any of us you like to hear training updates. And, more specifically, on race day it would be amazing for each of us (since most of us will be running with mobile devices of some form) to be bombarded with encouraging tweets as we press through 13.1 miles, one foot in front of the other. I'll remind you more about this later, but I definitely think it would be awesome to have all yall's little messages of support as we run.
Go, team Finding My Feet!
And, as always, happy Monday, friends!

Labels: Running